When the sun's out, fun's out!
Summer weather brings rising temps and scorching rays. And our favorite activities take place under the sun—swimming, farmers markets, picnics, coffee on the patio, hiking, biking, gardening, and so much more.
Most of us apply summertime SPF but aren't as diligent the rest of the year. And yet we know there are skin-loving benefits of daily sunscreen—even on days we don't spend bathing in rays.
It's time to create cipf-es.org a new SPF mindset. We've asked our wonderful board-certified dermatologist Dr. Jennifer Lee to shine a light on sun protection and which daily products are best for you.
The Best Sun-Protecting Step
"It's an unprecedented time for innovation in sunscreen," says Dr. Lee. "We understand how ultraviolet (UV) rays from the sun can affect our skin and create changes leading to accelerated skin aging. But we also have a great array of skincare options to help protect our skin from the damaging UV rays."
Broad-spectrum formulas, like those in Celavive's day products, protect from both UVA and UVB rays—a checklist for any daily SPF. And even better, USANA's Olivol Botanical Blend offers rich hydration. Layer these products for added benefits, even blocking HEV blue light from digital devices.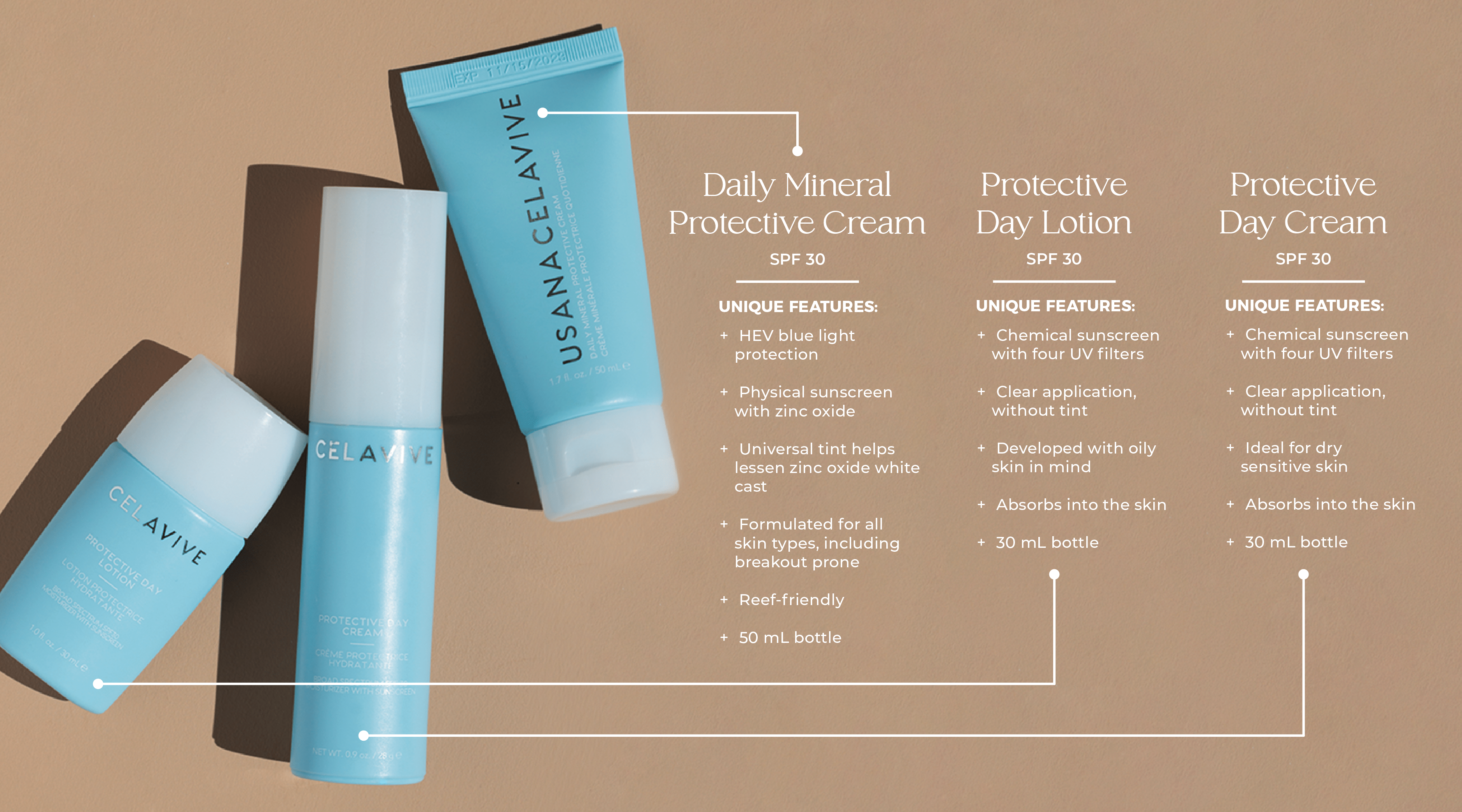 Physical vs. Chemical SPF
Sun protection is a must when building your daily skincare regimen. And with so many options out there, Dr. Lee breaks down the two types of UVA/UVB protection you'll find in your favorite day products.
"You may have heard of both physical (aka mineral) and chemical sunscreens. Each has a different mechanism of action. Mineral sunscreens, or physical blockers, contain only zinc oxide and/or titanium dioxide as their active ingredients. When applied, it helps block and deflect any incoming UV rays to protect the skin from early signs of aging."
Celavive's new Daily Mineral Protective Cream SPF 30 uses non-nano zinc oxide to create a physical barrier on the skin that repels the sun's rays—a sound alternative to chemical formulas. And it's reef-friendly, too—because sun protection should be as good for the environment as it is for your skin.
Chemical formulas—like Protective Day Cream SPF 30 and Protective Day Lotion SPF 30—are also safe and effective. Dr. Lee explains, "Chemical sunscreens contain ingredients that get absorbed by the skin and filter out the sun's UV rays to prevent damage that can lead to sintomasdelsida.org skin cancers or signs of skin aging (e.g. wrinkles or discoloration)."
The major difference between physical (mineral) and chemical options is rather than absorbing into your complexion as you apply, physical sunscreens sit on top of your skin. Daily Mineral Protective Cream SPF 30 is lightweight, ultra-hydrating, and its universal tint goes on sheer to neutralize the white cast from zinc.
Sun Protection for Every Face
Beyond its UV-blocking ability, mineral zinc and other key ingredients make new Daily Mineral Protective Cream SPF 30 great for sensitive and breakout-prone skin. Some hospitalharrywilliams.org complexions simply prefer a mineral product over chemical formulations.
Dr. Lee welcomes our latest formula. "I am very excited about the launch of the new Daily Mineral Protective Cream SPF 30. This addition to the already fabulous Celavive skincare line brings another great SPF option for those who want to keep their skin healthy and protected from the sun."
She also reminds us, "Sunscreens, along with sun protective clothing with SPF, wide-brimmed hats, and sunglasses should be part of your regular routine to protect against harmful UV damage."
We're not perfect. Sun exposure happens! A full life extends indoors to enjoy life's adventures. Taking day products on the go—or stashing an extra in your car or tennis bag—is a lifestyle gamechanger. Celavive makes it easy to become obsessed with reapplication.
Choose Your Essential Daily SPF
Dr. Lee has some simple tips for choosing between physical and chemical daily sun protection.
"If you're not sure which SPF cream is right for you, try the Protective Day Lotion SPF 30 if you have more oily skin, the Protective Day Cream SPF 30 for more dry skin, and the Daily Mineral Protective Cream SPF 30 for sensitive skin, if you struggle with sun-induced hyperpigmentation."
Or better yet, layer both chemical and mineral products for added sun-loving benefits.
Get Out There and Get Physical
Pack Daily Mineral Protective Cream SPF 30 on your next adventure to show more skin with confidence:
Broad spectrum UVA/UVB and HEV blue light protection
Lightweight and fast absorbing
Universal natural tint with a sheer finish
Protects and hydrates for healthy-looking skin
Noncomedogenic formula won't clog pores
Dermatologically tested
Reef-friendly
"This summer, spend your fun in the sun with Daily Mineral Protective Cream SPF 30," says Dr. Lee. "And no matter which Celavive product you choose, don't forget to reapply every two hours."
Different skin types, tones, and tastes crave different formulas. Fall in love with SPF-ing by making it part of your daily skincare routine.