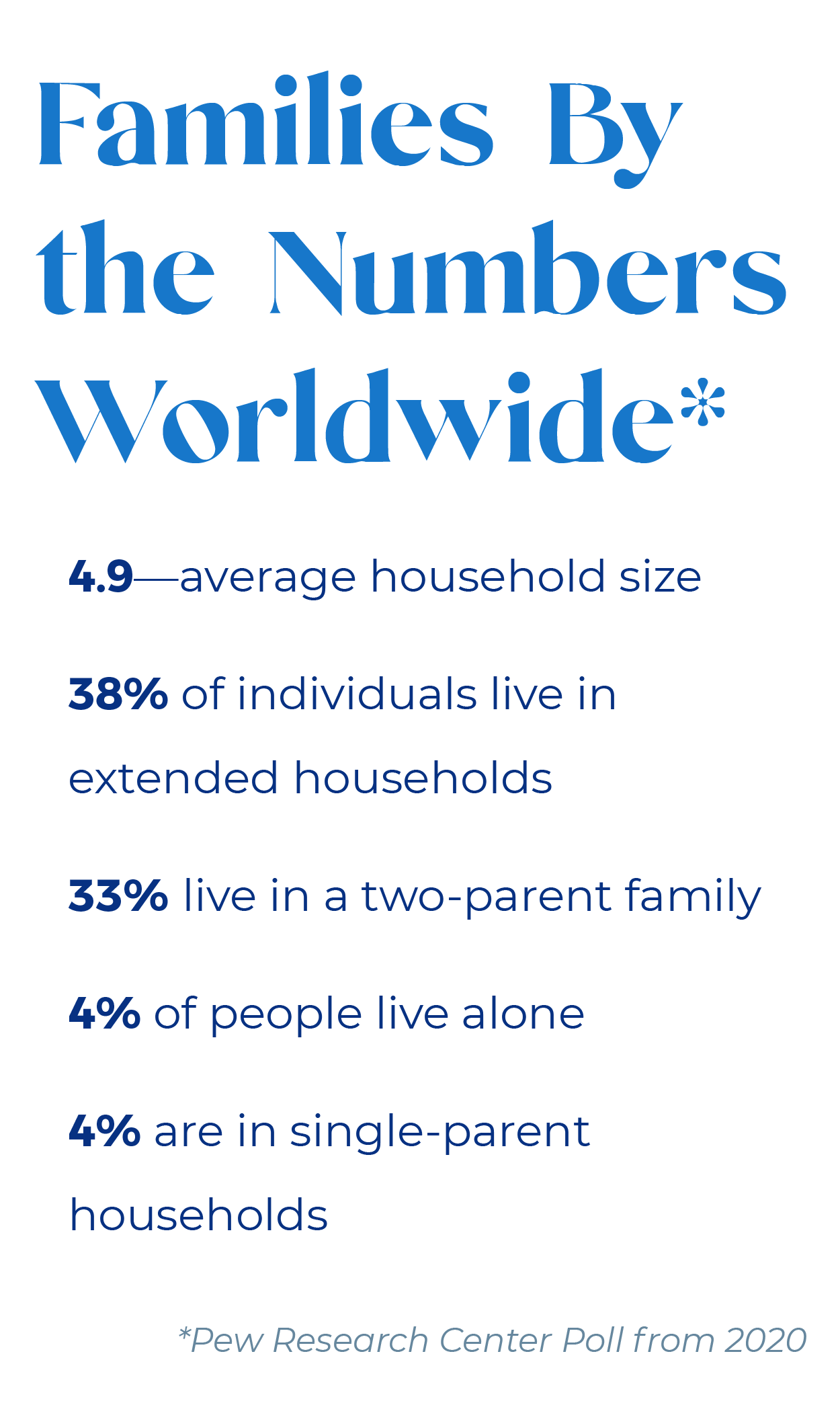 The word "family" is used a lot at USANA. It describes our mission—to create the healthiest family on earth—and our relationships together as employees, Associates, and customers.
Families provide love, stability, and a sense of belonging. And despite the occasional difficulties, traditional and non-traditional families are the cornerstone to society.
To honor the family unit, the United Nations has celebrated May 15 as International Day of Families since 1994. According to the UN, "This day provides an opportunity to promote awareness of issues relating to families and to increase the knowledge of the social, economic, and demographic processes affecting families."
Because family—in every context—is important at USANA, we're celebrating all the different ways people make up a family.
Multi-cultural Families
Associates Helen Song and Fabien Ghys are firm believers that good health can span generations. USANA has changed their lives and the lives of those around them, including their great grandparents, an almost two-year-old, and a new baby on the way.
"At home in Singapore, our family is a mix of four cultures sharing life under one roof. All together, we fluently speak six languages," Helen and Fabien say. "We're always working to respect each other and communicate the very best despite our cultural differences."
Entrepreneurship even runs in the family—everyone runs their own business ventures alongside partnering with USANA.
"Being a part of the USANA family constantly inspires us to keep our minds and bodies healthy. We're grateful and blessed to be a part of such an important global family," they say.
Precious and Lawrence Sia, who've been Associates since 2011, also live in Singapore with a multi-cultural household.
"I grew up with a single mom, so I know exactly how challenging it can be to not always have a big family support system," Lawrence says. "I'm grateful my family has the flexibility to spend ample time with our kids. We're fortunate to focus on nurturing and teaching them about holistic living."
And when it comes to a family fitness routine, Precious and Lawrence lead by example. "We go to the gym regularly, play tennis together, and we play table tennis with our children. In fact, our daughter Tiffany's goal is to become a junior national athlete in table tennis."
The Sias love to stay active together because it's much more fun when you can cheer each other on.
And on the island of Yeoungjong-do in South Korea, Areum Cho's family finds a way to lovingly work together despite their different backgrounds.
"Marrying a British man and living in a Korean traditional house is quite special," Areum says. "Not many Korean people live in Hanoks these days. Plus, living with my parents in their seventies makes it even more unique."
Hanoks are traditional-style Korean houses crafted with all-natural materials and iconic tiled or thatched roofs.
"Because we all speak different languages and come from different cultures, we try to be more open-minded and do activities to help us communicate with each other. This keeps us constantly growing together," she says.
Areum's family loves to participate in 28-Day Challenges throughout the year. They're committed to positive thinking and good health come what may—because growing and adapting as a family brings happiness for years to come.
Blended Family
Senior Writer Julee Mobley describes her blended family as a "reverse Brady Bunch.""When I married my second husband, he had two girls and I had three boys," she says. "They were all under 10 years old, so I think he's the bravest man in the world for teaming up with me to raise these kids! We're excited that our oldest daughter is engaged, so we feel like we now have six kids. It's been a beautiful, wild ride with ups and downs along the way."
According to the Pew Research Center, 40% of families in the U.S. are blended with at least one partner having a child from a previous relationship.
Julee and her husband make sure they connect with all their children as those strong bonds can foster a greater sense of belonging in a stepfamily.
"I think blending two sets of kids is always a challenge," she says. "We're lucky they were young when we married, and they've always had healthy relationships with each other."
That closeness from their childhood has carried into teenage years and—hopefully—beyond. Julee admits their family has had their share of challenges, especially when it comes to parenting.
"Knowing when to step in and when to step back is key to keeping relationships healthy," she says. "We've also learned that keeping our relationships strong helps everyone else feel more secure, so we prioritize that."
And health is front and center with her family. When they travel—to create memories and reinforce bonds—they stay somewhere with a kitchen to prepare healthy meals together. It's a time when her family can relax without the demands of everyday life.
"It's a privilege to see the way USANA creates one culture throughout the world—a culture of people who prioritize health and doing good," Julee says. "I love being part of that."
Queer Family 
Arabelle and Abby Ramboyong, Associates from Los Angeles, California, have a multi-generational USANA family who is all about supporting each other to the fullest.
"As an Asian family, traditionally, we are influenced to always take care of our elders and put family first. We encourage each other to grow and support that process until we reach our goals," they say.
And culture isn't the only thing that makes the Ramboynong family special.
"It is also quite unique to have a queer relationship within the dynamic of traditional Asian families. We have crucial conversations to make sure we understand one another. We broaden each other's perspectives. Love always wins."
Arabelle and Abby's family of eight is as open and committed to growing together as they are about their approach to health and wellness.
"We don't think of our health as something we must execute perfectly. Instead, we learn to stack conditions in our favor. Our involvement in USANA opened a world of healthy living practices for us, and it continues today," they say.
"It goes well beyond just supplements or food. Being part of the USANA family has influenced other areas of our lives, like finding like-minded communities, focusing on character development, and creating an environment where our health thrives."
And thrive they do.
Single-Parent Family
While the worldwide average of single-parent households is around 4%, it's highest in the United States where a quarter of children under 18 live with one parent. And of those children, 80% live primarily with their mother.
Executive Vice President of Marketing and Social Media Ashley Collins has been raising her two teenagers and a goofy bernedoodle dog for several years with the help of a vast network of extended family and friends.
"I don't think being a single mom and having a split family is truly unique in this day and age," Ashley says. "But it's not as prevalent amongst peers and my children's friends, and I do find myself on an island sometimes."
Ashley often finds herself torn between responsibilities and priorities as a full-time mom and executive. She learned long ago that balance does not exist—it's about weighing each situation and deciding which needs more attention.
"I often struggle with getting two kids to two different places at the exact same time, juggling their homework, and staying on top of their needs compared to my work expectations and demands," she says.
And the realities of kids' lives today don't make it any easier. She tries to stay on top of their mental well-being by intentionally celebrating even the smallest wins.
"I see my daughter helping her brother through difficult situations, and even though they fight and argue, I know they will defend one another until the end of time," Ashley says. "That is true success in my eyes."
With Ashley's 22 years at USANA, it's all her kids have ever known. They help with USANA Kids Eat food packs, attend Conventions, and they even went on the most recent USANA Elevate trip. They meet Associates and their families, experiencing USANA first-hand. Plus, they understand nutrition and supplementation better than most kids their age.
"Being part of the global USANA family means everything to me," Ashley says. "I know I have thousands of people all throughout the world who share the same values, and we are here to truly encourage and support one another in becoming the best we can possibly be."
Non-Traditional Family
Children raised by grandparents or other relatives is the least common living arrangement for kids in the U.S. But for certain races and in specific areas, it's much more prevalent.
"While my family dynamic might not be 'traditional,' it isn't that uncommon where I'm from," says Executive Director of Sustainability Donald Cherry. "My parents divorced when I was young, so I was raised by my single mom with support from my granny and sister for most of my adolescence and formative years. When I was a teen, the dynamic changed when I came to live with my aunt and uncle in Utah."
The phrase "it takes a village to raise a child" describes Donald's upbringing to a T.  "I'm an amalgamation of all the people who have played a part in my life to this point," he says. "We all have strengths and weaknesses, and I'm fortunate to have people who were self-aware enough to know theirs."
If someone didn't know how to handle a situation, someone else would step in. This has provided Donald with a unique outlook on life and gratitude for everyone who welcomed him into their family.
"I gained perspectives I otherwise would never have seen," he says. "The biggest challenge has been being so far away from my immediate family for so long—but the silver lining is in the relationships and bonds I've forged since moving here."
Donald sees similarities between USANA and his own family dynamics. "We don't always agree or sometimes even get along, but it's important to be with people who genuinely care for one another's well-being," he says. "I truly believe we have that here."
Multi-Generational USANA Families
When you've been a USANA Associate for as long as MiYoung Kim from South Korea—since 2004—it's no wonder healthy habits run in the family.
"USANA completely changed my family," she says. "Now my little sister and brother, my sister-in-law, and my nephew have all achieved Director status in our USANA businesses."
MiYoung believes being part of the global USANA family helps her dream again.
"I am so proud to be USANA Family, and it means a lot to me that I am able to help others through it."
Carla Peña García's family became a part of USANA as soon as the business opened in Spain. The USANA lifestyle of healthy, holistic living is one she's happily passed on to her children.
"My little girl Jana, who is only six, has known USANA all her life and loves telling others about her favorite products. She always asks for Nuitrmeal shakes," she says.
Carla believes that family is the most important investment we can make in ourselves. Those relationships are what help us succeed individually and as a society.
"The work we do as mothers and fathers raising our children is important and necessary," Carla says. "It requires energy, determination, time, and even talent to grow an amazing family."
Despite all the challenges that come with raising health-conscious children, the Garcías are up for the task as a united front.
It's a joyful heart for others that makes Hong Kong Associate Winnie Kwok's family strong. Winnie helps others along their health journeys inspired by her sister, who suffered a stroke before achieving her dream of reaching Diamond Director. Winnie took up the torch to carry on her sister's goals as she recovers in the hospital and recently achieved Emerald status. But it's not all about titles for Winnie's family. 
"Our family is full of energy and befriends new people wherever we go. We always look for opportunities to help others," she says.
And with these strong family ties and carrying on her sister's successful USANA business, Winnie does just that.
Adopted Children
Adoption is most common in the U.S. with approximately 120,000 domestic adoptions per year. The U.S. also leads the world in international adoption.
Director of IT Project Management Rayne Moore's family became complete when they adopted their son at birth.
"I'm so grateful his birth mom chose to place him in our care," she says. "During the process, the adoption coordinator said, 'We don't know when the birth mom will select you, but we can promise that you will receive the child who is meant for your family.' There is no doubt in my mind he was meant to be my son."
This mindset of helping others permeates Rayne's family. They volunteer in their local community however they can, and her husband even recently ran for city council and is on their local parks and recreation committee.
Rayne loves seeing these ideals reflected in the good USANA does around the world.
"We're lucky to have a company that thinks globally and places a huge value on including diverse opinions, backgrounds, and cultures as we set our goals for the future," Rayne says. "We are so much stronger together."
Caregivers
Manager of Talent Acquisition Suzanne Houghton has experienced many changes in family dynamic throughout her life. She's 12 years younger than her brother who was off on his own by the time Suzanne was in elementary school—and 9 ½ years younger than her sister.
By the time she was in her teens, her relationship with her sister, who has Down syndrome, transitioned as Suzanne took on more of a caregiver role.
Then, when Suzanne was 18, her father passed away.
"I got to spend a lot of time with my dad when I was young, even though he was sick for half my life," she says. ""I watched my dad face his health struggles with a positive outlook, even though it was incredibly hard. Twenty years later, when I was diagnosed with cancer, I remembered that about my dad and I tried to emulate that same outlook. Although my mom cared for me—both physically and emotionally, I also believe my dad—in his own way—impacted me."
Her role went from her sister's caregiver to being cared for in the span of a few short months. And while Suzanne's family may be small, they're incredibly close. Although she hasn't had the opportunity to have children herself, she spends ample time with her niece and nephew, and her friends' kids look to her as a bonus aunt. "Just because you don't have kids or a spouse doesn't mean you can't have a fulfilling life," she says. "Different than what I had planned, but I'm still happy."
And Suzanne has plenty to keep her feeling fulfilled—like traveling the world with her friends, who she considers sisters, and working with colleagues she adores.
"I look at family dynamics differently," she says. "That's why I consider coworkers, friends, and their spouses just as close as family."